How to Implement Your Brand Tools
How to Implement Your Brand Tools
If you go through all of the brand exercises of Purposeful Marketing, you'll end up with a set of deliverables:
Tagline
StoryBrand Elevator Pitch
Why-How-What Positioning Statement
Value Propositions
Leadership Message
Vision Pitch
How do you implement this brand work into your marketing?
Purposeful Marketing is built to be practical. None of the items above are built to be put together on a whiteboard, high-fived about, and then forgotten over time. Each one of the Brand tools has an implementation path. Let's take a quick look at how each of these items gets disseminated into your marketing after they've been conceptualized.
Tagline
If you've created the right tagline, it should be very clear how you help your target market. Taglines built in the Purposeful Marketing are not sexy, they are clear and concise. For starters, this tagline should be at the top of your website, above the fold, with a clear CTA button nearby.
Here's a perfect example from our friends at Paragon Labs: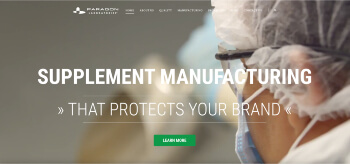 Here's a short checklist of other places to include your new tagline:
Business Card
Under your logo in the company's Linkedin Page
Other relevant social media channels you utilize
Sales collateral
Make sure to include the tagline in company-specific materials as well. Don't be shy about putting your tagline everywhere 😉
StoryBrand Elevator Pitch
The purpose of the StoryBrand Elevator Pitch is two-fold:
Make it clear what your company does through the lens of how you help guide your hero to the promised land.
Get every employee to speak about the company in the same way.
The copy for your elevator pitch should be on your home page, as close to the top as you can, but certainly in the first area of the page with rich full text. For any company coming to your site wondering "how can they help me?" it should be as visible as possible for your target personas.
Your SBEP should serve as your quick company bio for Linkedin and other directories (GMB, Yelp, etc). Anywhere people can briefly find you and wonder what you do and how you help your customers, it needs to be the text you use.
Additionally, getting the elevator pitch adopted company-wide means bringing the pitch into normal conversations. Much like companies make employees repeat the core values to ensure everyone is on the same page, you need to regularly challenge the team to recite the pitch. Getting unity and buy-in takes time and repetition. Do what you have to do to get everyone aligned.
Why-How-What Positioning Statement
The Why-How-What Positioning Statement provides great clarity on your purpose. Having it can help a team understand why they are there. Adopting the Why, How, What Positioning Statement internally is a good idea. If there are Brand Bible documents, a presentation deck, or simply a Dropbox folder of brand materials, it should exist there first and foremost. Make sure the team internally is bought in and believes what the company believes.
Next up, this copy needs to go on the About Us page of your website. It's a little too "heady" for your homepage, where you just want to clearly articulate how you help those that you help, but it's perfect for your About Us page or a derivative such as "Our Mission."
Value Propositions
In Purposeful Marketing, value propositions are always customer-facing. When we build our business value propositions, we do it with the notion that we are explaining both the value we provide as well as the value received by the end-user.
The first place to include your value propositions is on the homepage of your website. The placement within the site is up to you and your design team, but a simple and basic approach might look like this: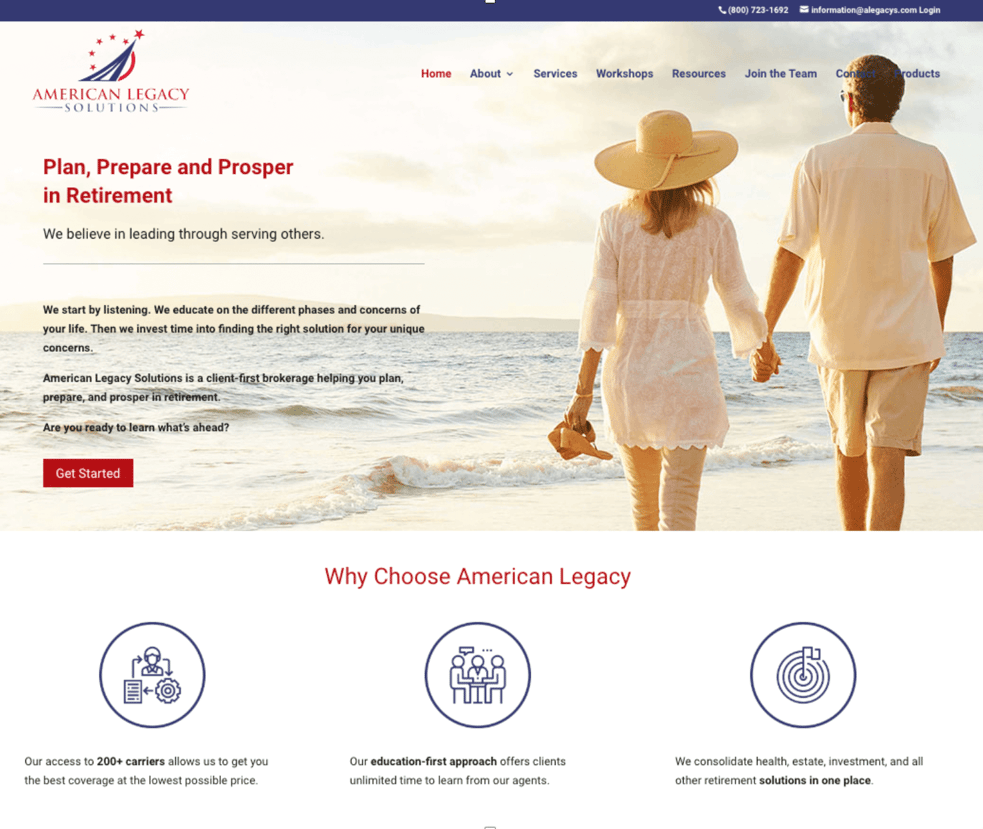 As you can see, our friends at American Legacy Solutions have their value propositions just under their header. It's a great compliment to their tagline and elevator pitch. Identify not just how they help but how they do it differently helps them stand out in a crowd.
Leadership Message
One of the key components when building out your Leadership Message is determine how you wish to disseminate the message. There's a simple checklist of areas you can consider:
Video/YouTube
Keynote Presentation
Blog Post(s)
Books/Ebooks
But the key is to consider your target audience. As we wrote in the "How to Build a Leadership Message" section:
This illuminates one of the great aspects of the Leadership Message: it allows you to make flexible, consistent content. Once you have the central message you want to use to attract your audience, it can be created as a video, presentation, blog post, editorial on another site, speech, infographic, cold call, or anything else that's applicable.

By creating the message first, you create content that feeds into those initiatives we outlined above. Start with your unique perspective, and let the SEO, PR, and Sales efforts amplify it thereafter.
Vision Pitch
The Vision Pitch is where you create the path of success for your customer. The simple formula is:
Start with Credibility Builders
Ask questions whose answers you will need to personalize what it would look like for your customer to go through your proven process.
Bring the customer through your proven process based on their answers in section 2.
For some companies, this can all be done orally. I personally love having a pretty keynote behind me to keep track of my vision pitch but to each his or her own.
The biggest key for implementing the vision pitch is not the look or the method, it's the overall adoption by the company and sales team. As we mention in our 11 Principles, we're all too familiar with the Superstar Salesperson Syndrome. Great salespeople love to sell their way. Work with them, get them on board, and use their expertise to drive your Vision Pitch.
Conclusion
Branding does not have to take as much time and money as companies pretend it does. Each of these items can be flushed out in a day and implemented within a month. Stop wasting time, stop wasting money, and implement these brand tools and adopt them throughout your company.