ReactJS Development Company
Tailored React JS Development for Optimal Web Solutions
Custom ReactJS Development: Tailoring High-Performance Solutions
Our Custom ReactJS Development Approach begins with a thorough analysis of your project requirements, user preferences, and digital goals. By immersing ourselves in these crucial elements, we uncover strategic opportunities perfectly tailored to your development objectives.

We collaborate to craft and enhance web applications that harness the full potential of ReactJS, guaranteeing customized user experiences and top-tier performance. Our commitment to data-driven methodologies ensures that your web solutions not only fulfill user expectations but also pave the way for measurable success.
Discover the Range of ReactJs Services We Provide
Crafting Tailored ReactJS Solutions for Your Unique Needs
At ATAK, we understand that every company is unique, and that's why we specialize in custom ReactJS development. Our approach goes beyond one-size-fits-all solutions. We collaborate closely with our clients to gain a deep understanding of their specific goals, industry landscape, and target audience. This collaborative process allows us to craft ReactJS solutions that are not just functional but also address specific challenges, enhance user experiences, and ultimately drive success.

We believe that your vision is at the heart of any successful project. Our team of seasoned ReactJS developers works in partnership with you to bring your ideas to life. Whether you require a dynamic web application, a responsive user interface, or a feature-rich platform, we leverage the power of ReactJS to create solutions that align seamlessly with your objectives. Your company's unique identity and goals are our guiding principles throughout the development journey.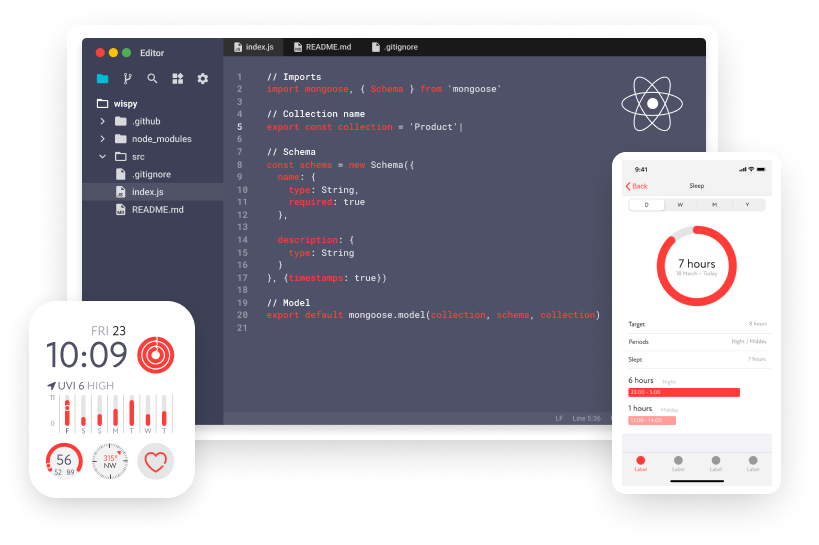 User-Centric Design for Enhanced Engagement
Our commitment to custom ReactJS development extends to providing exceptional user experiences. We don't just build web applications; we design interactive interfaces that engage and delight users. By placing user needs and preferences at the forefront of our design process, we ensure that your custom ReactJS solution not only meets but exceeds user expectations. Our user-centric approach fosters increased user satisfaction and loyalty, translating into tangible business growth.

In the ever-evolving digital landscape, we believe in the power of continuous improvement. Our iterative development process means that your custom ReactJS solution doesn't remain static but evolves with your company's changing needs. We actively seek feedback, conduct regular reviews, and stay updated on ReactJS best practices and emerging trends. This dedication to staying current ensures that your solution remains competitive, secure, and optimized for performance.


Tailored ReactJS Development Solutions
Our ReactJS development services prioritize scalability, adapting to your evolving needs and ensuring optimal performance as your business grows.


Enhance your applications with seamless third-party integrations, from APIs to payment gateways, tailored to your specific requirements for an improved user experience.


Our ReactJS development focuses on exceptional UI/UX, delivering intuitive and visually appealing web applications that engage users effectively.
Scalable Custom ReactJS Solutions
Scalability is a fundamental consideration for businesses looking to grow. Our custom ReactJS development services are designed with scalability in mind. We recognize that your needs may evolve over time, whether you're a startup with plans for rapid expansion or an established enterprise adapting to changing market dynamics.
Our scalable solutions are engineered to accommodate your business's growth seamlessly. We employ best practices and flexible architectures to ensure your custom ReactJS applications can scale up or down as required, saving you time and resources while maintaining optimal performance.
Integrating Third-Party Services with Custom ReactJS
In the digital ecosystem, third-party integrations are often essential for enhancing functionality and extending capabilities. Our custom ReactJS development expertise extends to seamlessly integrating third-party services into your applications.
Whether you need to connect with external APIs, incorporate payment gateways, or integrate with other software solutions, we have the experience and technical know-how to make it happen. We ensure that these integrations are not only functional but also aligned with your unique requirements, enhancing the overall user experience.
Why should you work with with ATAK?
Whether working for an international enterprise corporation or a privately-held SMB, ATAK's three-point approach to your account remains the same:
Tailored Excellence: Crafting Custom ReactJS Solutions and Measuring Success with ATAK
UI/UX-Driven Custom ReactJS Development
User interface and user experience are critical components of any web application. Our custom ReactJS development approach places a strong emphasis on UI/UX design. We work closely with our clients to understand their target audience, user personas, and design preferences. Our team of skilled designers and developers collaborates to create custom ReactJS solutions that not only function flawlessly but also deliver intuitive and visually appealing user interfaces. By focusing on UI/UX excellence, we ensure that your applications not only meet industry standards but also stand out in terms of design and user engagement.
Continuous Improvement in Custom ReactJS Development
The digital landscape is constantly evolving, and so should your web applications. Our commitment to continuous improvement sets us apart as a custom ReactJS development company. Beyond the initial development phase, we continue to monitor and analyze user interactions, making necessary refinements to keep your applications up-to-date and aligned with industry trends. Our regular assessments, user feedback loops, and adoption of the latest ReactJS technologies ensure that your custom solutions remain competitive and capable of meeting the evolving needs of your users and business.
Security and Compliance in Custom ReactJS Development
Security and data protection are paramount in today's digital landscape. Our custom ReactJS development services prioritize the security and compliance of your web applications. We implement robust security measures and data validation protocols to safeguard your valuable information throughout the development process. Our team is well-versed in industry standards and compliance requirements, ensuring that your custom ReactJS solutions not only meet your functional needs but also adhere to the highest security and regulatory standards, providing you and your users with peace of mind.
Responsive and Adaptive Custom ReactJS Development
In a rapidly changing digital landscape, adaptability is key. Our custom ReactJS development services are designed to be responsive and adaptive. Whether you're a startup or an established enterprise, our solutions are engineered to be flexible and scalable, just like your business ambitions. We create custom ReactJS solutions that can effortlessly expand and evolve alongside your enterprise as it progresses. Staying at the forefront of the latest ReactJS trends and technologies is our commitment, ensuring that your custom solutions remain competitive and aligned with the ever-shifting digital landscape.
Want to learn more about how ATAK can help you?
Tell us what challenges you are facing. We will have the right person contact you.
Request a Call