How to Use HubSpot's New Target Accounts
How to Use HubSpot's New Target Accounts
As more and more B2B buyers expect and value personalization, account-based marketing (ABM) has captured the attention of B2B companies looking for real, sustainable business growth with a more targeted approach to selling to companies and prospects. The process aligns your marketing and sales teams from the get-go, promoting long-term business growth, delighting customers, and boosting revenue.
If you want to be successful with account-based marketing, you need to invest in new resources. One such resource is a software with ABM capabilities such as HubSpot and its new Target Accounts. Not only does it make executing and monitoring an ABM strategy easier, but Target Accounts also helps you build a strong foundation for your strategy. It comes equipped with one of the strongest prospecting tools on the market, letting you implement ABM efficiently and effectively. But before we delve into how you can leverage HubSpot's new Target Accounts, let's take a quick look at what account-based marketing is, and why it's so important.
Account-Based Marketing Explained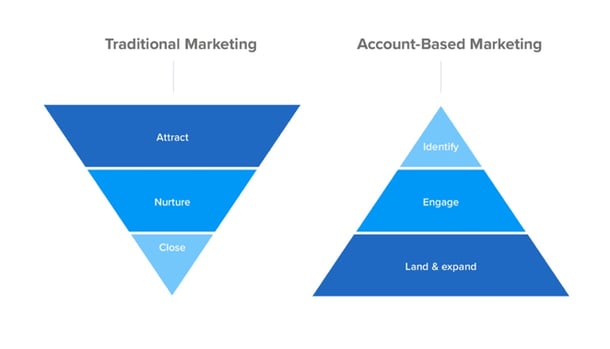 Account-Based Marketing (ABM) is an account-centric growth strategy in which marketing and sales collaborate to develop highly targeted and personalized buying experiences to secure a specific company or account.
For a simpler explanation, imagine a traditional marketing funnel flipped upside down. Instead of casting a wide net and then narrowing your potential buyers down to qualified leads, ABM consists of identifying exactly who you want to target first and creating personalized campaigns around each of these target accounts. These campaigns often contain messaging designed to address the specific needs and motivations of a target account to immediately engage them and bring them into the buyer journey.
But why should you have account-based marketing as part of your 2020 marketing toolbox?
Higher ROI.

Since ABM involves focusing on accounts that are likely to convert, companies can eliminate unqualified prospects early on. Doing so can minimize time wasted, save costs, and lower risks. In fact,

ITSMA

reported that 87% of marketers that measure ROI saw ABM outperforming every other marketing investment.

Marketing and sales alignment.

For ABM to be effective,

marketing and sales teams must be aligned

in order to accurately identify target accounts, map them out, and align on sales initiatives. So ABM essentially accelerates this alignment, allowing companies to experience

36% higher customer retention rates

as a result.

Higher quality leads.

With such a high degree of personalization, ABM has proven to be successful at generating higher quality leads and maintaining customer relationships.

McKinsey & Company

found that personalization reduces acquisition cost by as much as 50% and can increase revenue by up to 15%.
Now that you understand the basics of account-based marketing, here is how to get the most out of HubSpot's Target Accounts and elevate your marketing strategy.
How to Get the Most Out of HubSpot's Target Accounts
HubSpot's new Target Accounts feature can make selling to high-value accounts easier than ever. With both your marketing and sales teams working from a central CRM, your teams can finally use shared tools that unite them around the same data and empower them to create seamless buying experiences for your highest-value accounts.
Let's take a look at some of the overall features of this new HubSpot tool.
Target Accounts Dashboard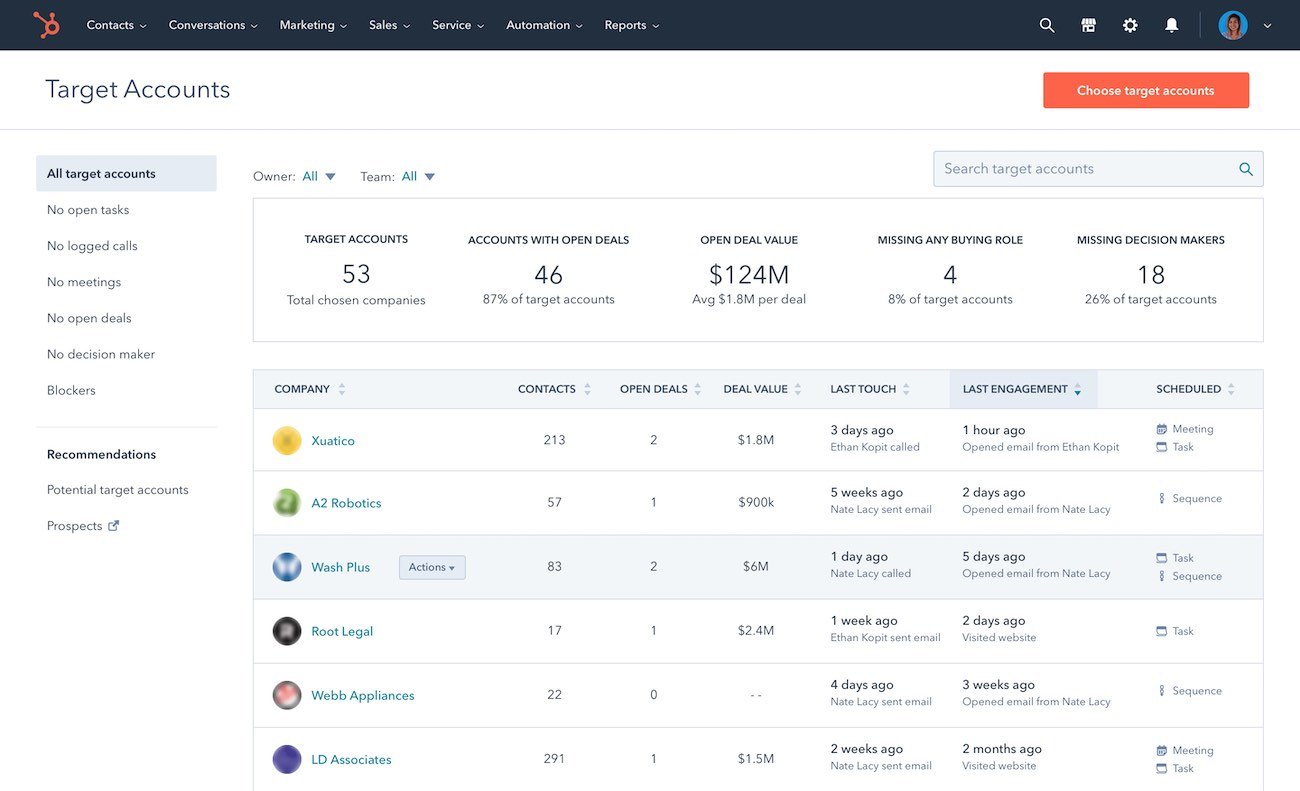 The Target Accounts dashboard is the new command center for your marketing and sales teams to monitor all your ABM efforts. This dashboard will help you see the overall progress of your strategy and keep track of your target accounts. By default, it gives you a birds-eye view of:
Current target accounts;

Accounts with open deals;

Value of those open deals;

Accounts missing a buying role; and

Accounts missing decision-makers.
This dashboard also allows you to get more granular as needed. With filters, you'll be able to see critical information such as which accounts currently have no open tasks, no logged calls, no meetings scheduled, or no open deals associated with them.
To fully maximize your Target Accounts dashboard, we recommend that you, first, identify what makes an account a high-value "target" for your company. Look at some of your largest deals and most successful customers. What do they have in common? The common traits you identify among your target accounts (e.g. industry, company size, annual revenue, location) will give you – and HubSpot – a clearer idea of what your best-fit target accounts will look like.
Once you have a clearer idea of your target accounts "persona", you'll have the option to assign an "Ideal Customer Profile Tier" to these contacts. This custom property defines how close a company matches your "ideal customer profile". Tier 1 indicates companies who are the best fit for your business while Tier 3 is meant for those worth selling to, but are not the priority. Tier 2 companies are good-fits for your company, but may not bring in as much revenue as Tier 1. By assigning these tiers, you'll get an overall picture of how closely your chosen target accounts are aligned with your strategy.
Account Overview
From Target Accounts, you'll get access to an "account overview" summary for each company in your HubSpot CRM. This account overview gives you a quick, high-level view of where each of your target accounts is relative to the buyer journey.
You will have records of a specific company's recent activities (i.e, emails, meetings, and calls), associated contacts, internal stakeholders, and any tracked page views from associated contacts. In addition, you will be able to see all deals associated with that company, helping you keep an eye on how effective your marketing and sales efforts are while easily cross-referencing your most recent communication with any associated contacts.
Prospects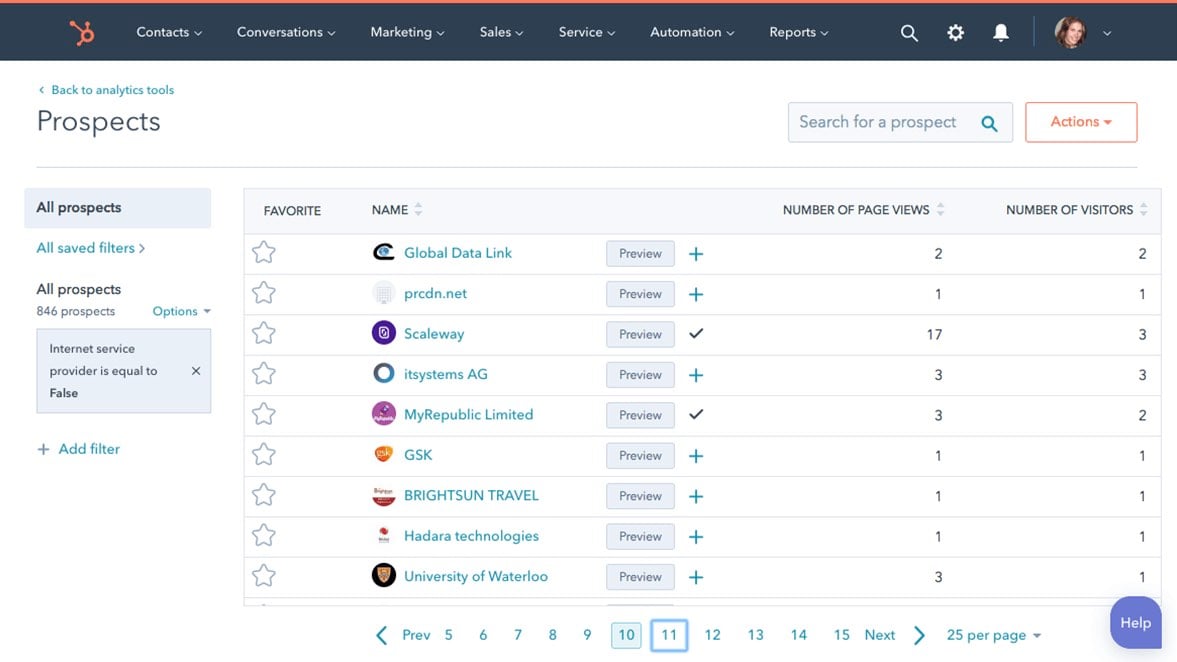 Also living in your Target Accounts dashboard is arguably one of the most important features in HubSpot that will enhance your ABM strategy: the Prospects tool. This Prospects tool shows which companies have perused your site – as well as how many pages they viewed – but have not yet converted on a form. It essentially gives you a list of qualified leads that have started the B2B buyer journey. As a bonus, you'll be able to easily tag a prospect as a target account and involve them in your ABM efforts.
Getting familiar with the Prospects tool will make it easier for you to find and track some of the high quality accounts you never considered. Equipped with this information, your sales team will have insight into which companies they should be actively cold-calling or emailing. It's an extremely powerful tool, delivering detailed insight into the companies you should be targeting as well as their level of interest.
Recommendations
In addition to the Prospects tool, HubSpot provides another way to find target accounts. As you mark companies as Target Accounts in your database, HubSpot's algorithm will begin to understand the criteria you use to categorize your high-value accounts. No matter what metric you used to categorize companies as "target accounts", HubSpot's AI will learn what types of companies to look for. Simply speaking, it automates the search process for new best-fit target accounts.
When used together, both Prospects and the Recommendations creates a list of sales qualified leads that your marketing and sales teams can immediately connect with and create personalized experiences for. They enable your marketing and sales teams to focus on other valuable activities like connecting with decision-makers and moving them through the sales funnel, which is why we recommend HubSpot when executing an ABM strategy.
Ready to Get Started With HubSpot's Target Accounts?
Account-Based Marketing helps your company attract high-value accounts through personalized approaches and forge deeper relationships with them. As such, ABM campaigns require seamless collaboration between your sales and marketing teams. But how can you foster this collaboration? The answer is simple: by leveraging software that supports ABM, like HubSpot. Especially with the Target Accounts feature automating the research process and acting as a central database for all your high-value target accounts, both your marketing and sales teams will be able to work together and close deals much more efficiently.
Interested in using HubSpot to automate your sales pipeline?