These Are The Instagram Metrics You Should Be Measuring
These Are The Instagram Metrics You Should Be Measuring
Ed Note: This week, ATAK's Marketing Manager Sarah Shimoda shares some insight on the real Instagram metrics you should be focusing on. For help attracting, connecting, closing, and delighting your customers on Instagram, schedule a consultation with us today. Enjoy!
Instagram has changed over the past few years and is showing no signs of stopping any time soon. The company launched the Boomerang photo app in 2015, shifted their chronological algorithm in early 2016 to show users the "best" posts first, and introduced their version of Snapchat, Stories, that transformed the product completely. With all these changes and features Instagram produces and hitting over 600 million monthly active users, it has earned its spot as one of the top social media channels, making it a crucial platform for businesses, big or small.
When it comes to companies using Instagram, posting about their product and using fun hashtags are one thing (or two things, technically), but it can get a little daunting when it comes to looking at the actual numbers and understanding the impact of users responding to posts. Let's break down some of the most important metrics to measure when it comes to your business's Instagram account.
Engagement Metric
This goes without saying, but it's safe to conclude that pretty much everyone likes to be liked — both in real life and in the digital space. When you have an Instagram account for your business, receiving a bunch of likes and comments not only gives you a sense of validation in your product, but also gives you important metrics to help you measure your account's engagement to give you an idea of how your content is performing and how it resonates with your customers and potential customers.
Key Metric to Pay Attention to
Your profile's engagement rate is arguably the most vital metric to take into account when it comes to Instagram. After all, Instagram's new algorithm looks to bump the most engaging posts to the top in order to enhance the users' experience. According to Iconosquare, the sweet spot for an account's engagement rate falls between 3-6%. Being available to respond immediately to comments is a crucial component in order to help increase your chances of getting more engagement on your post, and achieving your goals.
We are all familiar with accounts that have thousands of followers, but upon digging deeper in their feed, we find they have noticeably low likes and comments compared to how many followers they have. Not only is it off-putting, but it deters the user from your call-to-action, whether it's something as simple as leaving a comment or subscribing to your newsletter. Don't be one of these accounts!
Think of engaging with people on your account as a form of customer service. In real life when dealing with customers, good or bad, you wouldn't just ignore them, right? You would engage with them. Having conversations with your customers through the comments section is a way to have them return to your account and continue engaging with the content you put out. This is especially important when you are in the process of growing your following. Of course, once you start getting hundreds of comments per post, it's nearly impossible to keep up and respond to each one, but it's certainly a good habit to start early on to show your customers you're a real person.
Audience Metrics
Determining your audience is a vital part of helping you figure out who your customers are — which is one of the first things to think about when mapping out your marketing strategy. In your Instagram account, you can learn some interesting facts about your followers, such as location, age range, gender, and even the day and time your followers tend to be the most active on Instagram. With this type of data in hand, it's a great place to start to test out different content that aligns with your demographic.
Key Metric to Pay Attention to
Aside from metrics such as gender, location, and age, Instagram has another metric under Audience that provides data on the average times and days your followers are on Instagram. In the example below, we see a good amount of this account's followers are on Instagram around 3pm on Mondays. This tells us they should plan to release their upcoming posts at this time and assess its performance from there.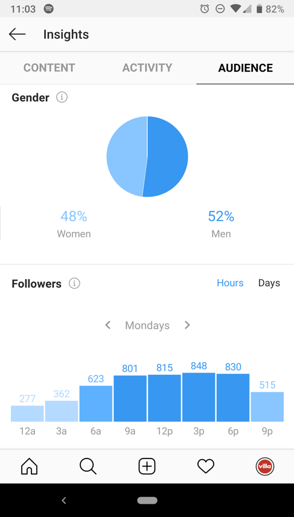 Stories
Rolled out in 2016, Stories is Instagram's version of Snapchat, which allows users to post photos or videos that are visible for 24 hours. Stories play a big role in Instagram now, with users interacting just as much with this as regular posts, and we think a part of this is due to Stories being right at the top when you open Instagram. With that, if it makes sense for your business, Stories would be a great thing to participate in, if you aren't already.
Additionally, Instagram added a feature to this called "Highlights" where you can choose some of your past Stories and make them visible and permanent on your Instagram account, under your bio. Think of these as the best of your Stories that you think are useful and worth having users return to, hence calling them highlights. This would be good to document a product launch, an ongoing giveaway or contest, tutorials and more.
Key Metric to Pay Attention to
Some of the important metrics related to Stories you should take note of are Forward and Back. These are the actions that users do when they are viewing your Stories. If you're seeing a lot of users tapping forward on your Stories, it's important for you to try to determine why. Typically, this is a good indicator that your content didn't resonate with the user, so be sure to make note of that and try to optimize your future Stories to prevent forward taps. On the other hand, if you're seeing some traction on your back taps, then this could potentially mean your story caught the user's eye, and they wanted to go back and view it again, which is good! Be sure to take note of that content and test it in future Stories.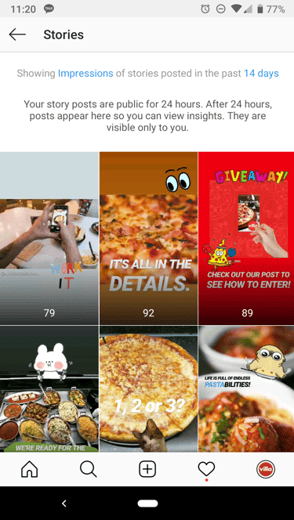 Now that you have a better understanding of some of the top Instagram metrics, you have the knowledge to confidently dive into your account to analyze your numbers in order to determine the next steps to improve your content and grow your following.