Result-Driven B2B Marketing Agency
Empowering B2B Tech Companies with Digital Marketing & Sales Strategies
A B2B Inbound Marketing Agency Tailored to Your Needs
At ATAK, we are a specialized B2B digital marketing company focusing on enhancing lead generation, conversion rates, and sales opportunities for SaaS and tech companies. We take pride in being a top B2B digital marketing agency, developing marketing programs tailored to the specific needs of B2B organizations, especially in the SaaS and tech sectors, facilitating their growth with measurable results. As a comprehensive B2B content marketing agency, our services encompass every aspect of marketing, from strategy and execution to analysis and ongoing improvement, with a special focus on SaaS and tech industries, ensuring that your B2B marketing investments drive results. Elevate your B2B success with our specialized digital marketing agency. We excel as a B2B SaaS marketing agency, delivering tailored solutions.
Comprehensive B2B Digital & Content Marketing Services
Content marketing
Search engine optimization (SEO)
Pay-per-click (PPC) advertising
Email marketing
Account-based marketing (ABM)
Lead generation
Market research
Website design and development
Video marketing
Sales enablement
Branding and brand development
Conversion rate optimization (CRO)
Customer relationship management (CRM)
Marketing automation
Social media marketing
Web analytics and reporting
Marketing strategy consulting
Turning Vision into Results
B2B Marketing Strategy + Execution
At ATAK, we specialize in designing and executing B2B marketing campaigns that attract the most qualified buyers while conveying a clear and compelling message. But acquiring customers is only the first step in achieving sustained growth. That's why we offer lead-to-sales nurturing programs that convert prospects into profitable opportunities. By bridging the gap between marketing and sales, we help you achieve seamless and long-lasting growth, maximizing the return on your investment. At ATAK, we are more than a B2B marketing strategy agency – we're your partner for growth. As a top B2B marketing agency, our expertise extends to B2B tech marketing, attracting qualified buyers and converting prospects into profitable opportunities. Experience seamless growth with our b2b tech marketing agency.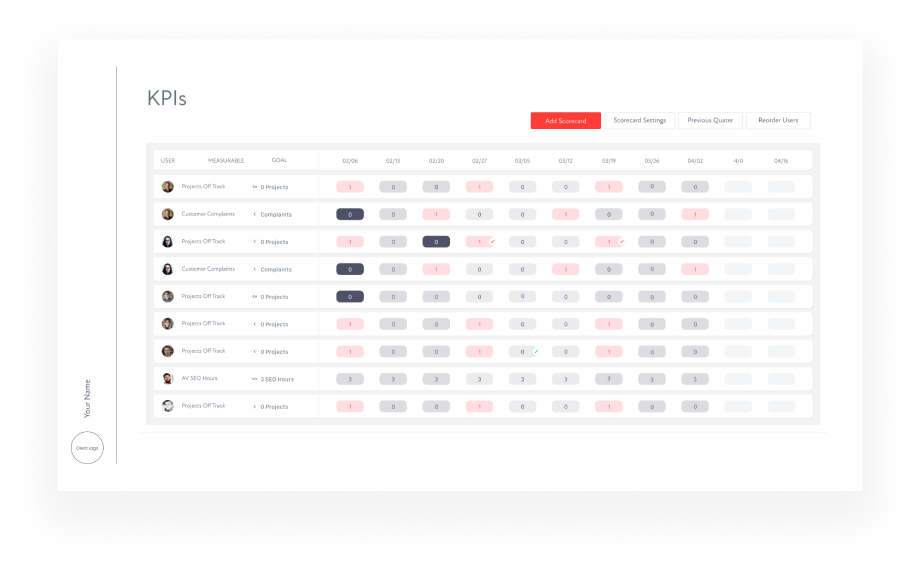 B2B Marketing Principles: KPIs
We believe that vanity metrics, such as likes or followers, can be misleading and do not necessarily translate into tangible business results. That's why we prioritize KPIs that are focused on conversions and directly linked to business growth. We work closely with our clients to establish measurable goals that align with their business objectives, and we develop and execute B2B marketing strategies that are tailored to achieving those KPIs. At our B2B marketing firm, we emphasize meaningful KPIs over vanity metrics. Likes and followers may not fuel growth, but our focus on conversions drives tangible results. Partner with a dedicated B2B marketing company for tailored strategies and business-aligned goals.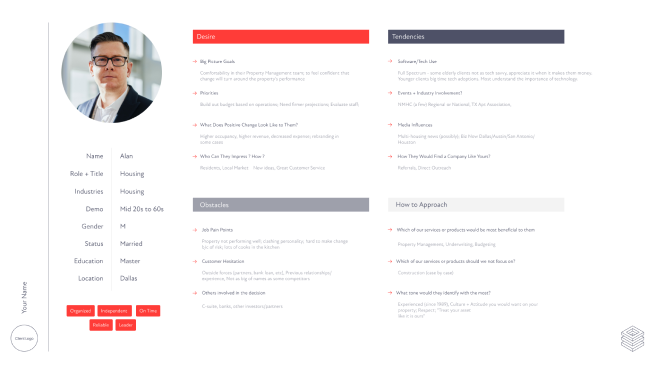 The Right Message to the Right Person
B2B Marketing Principles: Buyer Personas
Developing buyer personas is essential in B2B marketing because it helps businesses:
Understand their target audience and their pain points

Create customized marketing strategies that resonate with the buyers' needs

Enhance their lead generation efforts by improving messaging and targeting.

Improve sales alignment and communication by providing a shared understanding of the target audience and their buying journey.
What to Expect Working With a B2B Marketing Agency
As a B2B marketing agency, we take pride in working closely with our clients to understand their business and marketing goals. We develop a customized strategy that utilizes the latest marketing technologies and techniques to help them reach and engage with their target audience. We hold ourselves accountable throughout the process, providing transparent communication, regular updates, and a results-driven approach that delivers measurable success for their business. Partner with our B2B technology marketing agency for tailored strategies, utilizing cutting-edge techniques to engage your target audience effectively. Transparent communication, and measurable success assured.

Watch the video to learn more.
B2B companies need to understand the strength of structure. With organization comes scalability. ATAK helps companies build the foundation for growth.
The B2B Marketing Toolbox
ATAK understands the right approach to making technology work for B2B companies by utilizing a variety of tools and technologies to streamline and optimize their marketing efforts. Some examples of these technologies include:
CRM software
Sales enablement tools
Social media management platforms
Email marketing software
Marketing analytics tools
Content management systems (CMS)
Project management tools
Video conferencing software
A/B testing tools
Website personalization software
Landing page builders
Lead generation tools
Account-based marketing platforms
Artificial intelligence (AI) and machine learning (ML) solutions
Mobile marketing tools





















B2B Marketing Principles: Sales Enablement
A B2B marketing agency's role in sales enablement is to assist in lead generation and pipeline automation, utilizing tools such as lead scoring and routing to ensure that the most qualified leads are prioritized for sales outreach. They also work to optimize the sales process through the development of targeted messaging and collateral, helping to increase conversion rates and overall revenue growth.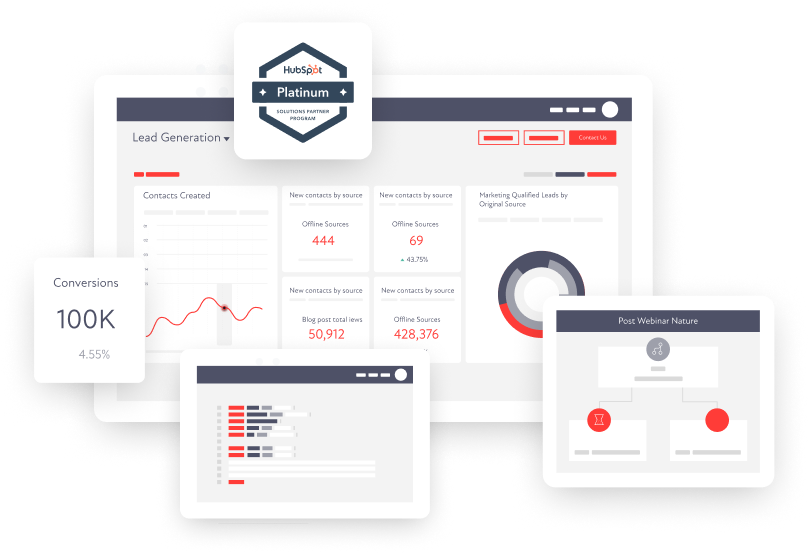 B2B Marketing Principles: Technology
Marketing technology such as HubSpot is crucial for modern businesses because it enables them to:
Automate repetitive tasks, such as lead nurturing and email campaigns, freeing up time and resources to focus on more strategic initiatives

Gain valuable insights into their marketing performance through in-depth reporting and analytics, allowing them to optimize their campaigns for better results

Improve communication with their audience through personalized and targeted messaging, resulting in stronger relationships and increased customer loyalty.
Customer Experience
The Four Pillars of Successful Client
+ Agency Relationships
Strategy
Do we have a well-researched plan that includes KPIs, persuasive creative, and a clear path to growth?
Execution
Are we following through on the strategy we've built and hitting all deadlines with elite work?
Communication
Are we proactively conveying the work we're doing, why we're doing it, and what to expect? Are we quick to respond?
Success
Is the work we're doing hitting the goals we set forth? Are we helping you grow your business?
B2B marketing must follow a strategy. Our M2S Framework makes growth simple.
Turning Foundation + Foresight into Action

The M2S Framework
The M2S (Marketing-to-Sales) Framework is the B2B marketing strategy that helps build organized and accountable growth plans. It's the simple, straightforward, and structured approach B2B companies use to scale.
Built for B2B Marketers by B2B Marketers
Our framework helps other marketers do what we've done for over a decade - simplify the process, quantify the results, and optimize accordingly.
Gavina Coffee Solutions
How ATAK revitalized the B2B marketing arm of this successful manufacturer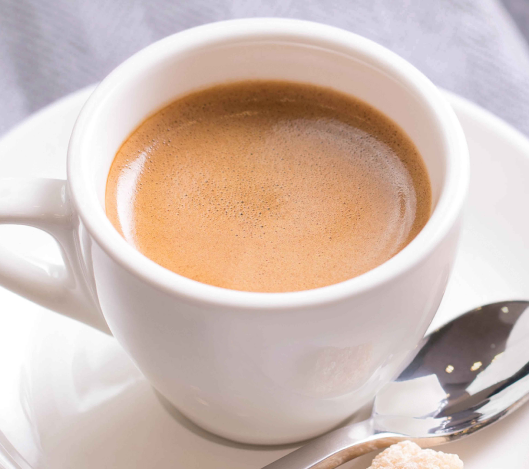 Attract. Convert. Close. Delight.
Lead Generation
To attract the prospect, ATAK utilizes various strategies such as email campaigns, SEO, PPC, and content marketing, we are able to capture the attention of potential customers and nurture them down the funnel. Our focus on attracting the prospect through targeted messaging and personalized experiences has resulted in measurable success for our clients.
Conversion Rate Optimization
To convert the prospect into an opportunity, ATAK creates persuasive landing pages that effectively communicate their value proposition. The 7 pillars of persuasion provide a framework for building landing pages that are designed to convert. By leveraging elements such as authority, social proof, and scarcity, B2B companies can build trust with their audience and motivate them to take action.
Sales Enablement
To close the opportunity into a customer, ATAK leverages sales enablement tools that streamline the sales process and provide our clients with the resources they need to succeed. Tools like HubSpot + Salesforce allow us to track customer behavior and preferences, enabling us to create personalized experiences that increase customer satisfaction and retention. By utilizing sales enablement tools, ATAK empowers our clients to achieve greater sales success and drive business growth.
Content + Thought Leadership
To delight their customer base, ATAK helps its clients develop thought leadership content that showcases their expertise and positions them as industry leaders. By producing high-quality content such as blog posts, whitepapers, and case studies, we enable our clients to establish themselves as trusted authorities in their respective fields. This content not only educates and informs customers but also helps to build a lasting relationship based on mutual respect and trust.
Want to learn more about how ATAK can help you?
Tell us what challenges you are facing. We will have the right person contact you.
Request a Call
FAQs
How do you measure the success of your marketing campaigns?
We use a variety of metrics to measure the success of our marketing campaigns, including website traffic, lead generation, conversion rates, customer acquisition costs, and more.
How do you determine which marketing strategies are best for your business?
We start by conducting a thorough analysis of your business, target audience, and competition. Based on our findings, we develop a customized marketing strategy that's tailored to your specific needs and goals.
How do you ensure that the content you create aligns with my B2B business goals?
We begin by thoroughly understanding your business, target audience, and goals. Our team collaborates closely with you to create a content strategy that aligns with your brand, messaging, and objectives.